Join us, dear friends, as we tell the tale of a love from the time before time that will last beyond the heat death of this universe.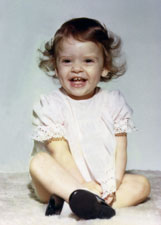 Even at the dawn of life, passion burned brightly in our young eyes and we doubted not the righteousness of our inevitable love. Ours were ancient souls each seeking completion in the other.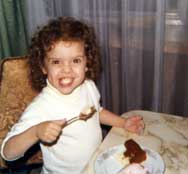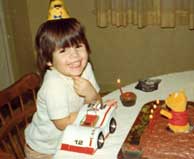 But our undeveloped minds knew not how to handle this sweet love and, thusly, our appetites were temporarily sated by cake. We did finally swim together in the batter of love, and while lesser loves have fallen, ours rose and was made fluffy in the E-Z Bake Oven of Life.
As the wise ones do, we parted briefly in the mid-70s to play in other fields and so chase the flickering fireflies that darted to and fro within our discrete spirits, not to swat them, oh no, but to nurture them in a protective Mason jar of resoluteness. So we got jobs.
Curtis's paramilitary career took him to exotic lands where he spoke in the tongues of the ancients and unearthed the wisdom of the ages. He earned many badges.
After seeing the souls of his compatriots systematically crushed by the "Polar Bear Club" and the making of lanyards, Curtis, whose soul was shielded by the armor of our love, turned his back on all matters martial and threw his badges over a fence.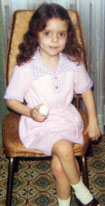 Leah found mundane success in the business of advertising, ascending to new heights on the wings of her American Egg Board slogan, "Go suck an Egg!"™ Yet her soul plumbed new depths of despair like some deranged plumber attempting to reach China with a wrench and a prayer. Her only sustenance: Our love.
Curtis found Leah stranded atop her advertorial Everest and led her like a sherpa of love back down the mountain and so rescued her soul from Pluto's realm.
We rejoined physically, not in this realm, but in a glorious dimension of purity and wicker.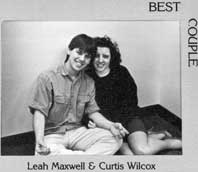 We were impelled to return to this plane so that others might bathe in the light of our love. We were raised up like royalty on a palanquin by our peers upon our return. In truth, it is our love, not ourselves, that should be exalted.